Dubai Airshow well underway with Boeing in the lead in the orders race /// 355-aircraft Turkish Airlines order for Airbus jets agreed to in principal – not yet officially announced
Dubai Airshow 2023 is well underway and we are providing special coverage of the event in this month's orders and deliveries article. The venue is Al Maktoum International Airport, also known as Dubai World Central (DWC), the city's newest airport. The event ends on Friday and more than 1,400 exhibitors are in attendance with over 180 aircraft on flying and static display. Later in this article, we provide a complete rundown of commercial aircraft ordering activity in Dubai so far.
Boeing and Airbus delivered 34 and 71 commercial jets in October 2023, compared to 35 and 62 deliveries, respectively, in the same month last year. Boeing's deliveries are currently affected by a 737 MAX production issue discovered in late August. The issue concerns improperly drilled fastener holes in the aft pressure bulkhead on the fuselages of some 737 MAX models. Year-to-date, Boeing and Airbus have delivered 405 and 559 aircraft compared to 363 and 497, respectively, during the first ten months of 2022. As of October, Boeing and Airbus are 42 and 62 deliveries ahead of last year's totals to date. In 2022, Airbus won the deliveries crown for the fourth year in a row by delivering 663 aircraft, compared to Boeing's 480 shipments. In 2021, Boeing and Airbus delivered 340 and 611 aircraft.
Following a more than challenging 2020 due to the COVID-19 pandemic, 2021 and 2022 were recovery years for the two largest commercial plane makers. This year has been another year of recovery for the commercial aircraft manufacturing industry. However, Boeing and Airbus still have quite a way to go before deliveries are back to pre-pandemic levels. In 2018, before COVID-19 and the 737 MAX grounding, Boeing delivered 806 jets, a level that will likely not be recaptured before the 2025-26 timeframe. Airbus' record high of 863 shipments was set in 2019, a level that could be surpassed in 2024 if the supply chain can keep up, but most likely not before 2025. Also, Airbus is expected to retain the deliveries lead for the foreseeable future due to the company's comfortable backlog lead over its American rival. Before 2019, Boeing had out-delivered Airbus every year since 2012.
As indicated above, in October 2023, Boeing delivered 34 jets, including 19 737s (18 MAXs / 1 NG), six 767s, three 777s, and six 787s. As mentioned above, Boeing's deliveries are currently significantly affected by a 737 MAX manufacturing issue. Despite the issue, the 737 program continues to transition production to 38 jets per month. Since June of last year, the 737 program has been producing aircraft at an official rate of 31 per month and, year-to-date, Boeing has delivered the same number per month, on average. At their Q3 earnings call, Boeing announced that they expect the transition to be completed by the end of the year. At the same time, Boeing reduced its guidance from 400-450 737 MAX deliveries for the year to 375-400, due to required rework to remedy the 737 MAX production defect. With 298 737 MAXs delivered to date, this means that Boeing expects to deliver at least 38-39 aircraft per month in November and December. In the long term, Boeing expects to increase production to approximately 50 jets per month in the 2025/26 timeframe. This compares to the pre-crash/pre-pandemic rate of 52 737s per month in 2018. Recently, it was reported that the company is planning to boost production to 52 jets per month by January 2025. The company plans to open a new 737 MAX production line in Everett in the second half of 2024. The new line is in addition to the three lines currently in place in Renton. Boeing ended the second quarter with 250 737 MAX jets in inventory, up 22 from Q2 2023. Customers in China account for 85 of these aircraft. Boeing expects most of the inventoried jets will be delivered by the end of 2024. The company is still producing 737 NGs but only has 18 737-800s remaining in backlog.
In August of last year, deliveries of the Boeing 787 Dreamliner were resumed following a suspension of shipments that lasted nearly 16 months. Boeing had suspended Dreamliner deliveries in May 2021 for the second time in less than a year. At the end of June, the 787 production rate was raised for the second time this year and is now four per month. The 787 program is currently transitioning to a rate of five per month (for a total of 70-80 deliveries for the year), followed by further increases before reaching 10 aircraft per month by 2025/26. Boeing ended the first quarter with 75 Dreamliners in inventory, down 10 from Q2 2023. Most of these aircraft will be delivered during 2023 and 2024.
The 747 program closed down production when the last aircraft was delivered to Atlas Air in January this year. The 767 program is currently producing at a rate of three units per month, a mix of KC-46 tankers (based on the 767-2C) and 767-300 freighters. The 777 program is currently pushing out aircraft at a rate of three per month. Most aircraft in backlog are 777 freighters, with only five 777-300ERs left. The 777 program was expected to get a new addition in late 2023 with the first delivery of the 777X, but in April of last year, Boeing announced this will now not happen before 2025. This reflects an updated assessment of the time required to meet certification requirements. Last year, Boeing launched a new 777X-based freighter, thereby expanding its 777X and cargo portfolio. By the 2025/26 timeframe, Boeing expects to be delivering four 777s per month.
In October 2023, Airbus delivered 71 jets, including nine A220s, 51 A320s (all NEO), three A330s, and eight A350s. The official A320 production rate is 45 aircraft per month and has remained at this level since the end of 2021. On average, the company has delivered 44 A320s per month in 2023 compared to 43 in 2022. Production is currently being increased and an official rate hike can be expected soon. The A320 program is expected to reach a monthly rate of 65 by late 2024 (pushed back twice now due to supply chain challenges). Also, Airbus is working with its supply chain to increase A320 production to 75 aircraft per month in 2026. The A321XLR flight test program is reportedly progressing well, and entry into service is expected to take place in the second quarter of 2024.
The A220, meanwhile, is being produced at a rate of six aircraft per month, with a monthly production rate of 14 expected by 2025. Airbus is currently planning to launch a stretch version of the A220, which many now refer to as the "A220-500" or even "A221." Currently, the Pratt & Whitney PW1500G is the only engine option for the A220, and the new variant will most likely come with a second engine option.
The A330 production rate was increased from two aircraft per month to three at the end of 2022, with an increase to four per month expected in 2024. The A350 production rate currently averages five per month and is expected to be increased to six by early 2023. However, the rate increase has been pushed back to late 2023. Airbus expects to produce nine A350s per month by 2025.
Turning to the October orders review, Boeing had a solid month and booked orders from four customers for a total of 123 jets (gross orders) and reported six 737 MAX cancellations, resulting in 117 net new orders. The October orders haul was dominated by Southwest Airlines' order for 111 737-7 MAX jets. Southwest has placed orders for over 300 737-7 aircraft, growing its orderbook to more than 500 737 MAXs. Also in October, British Airways booked six 787-10 Dreamliners, while two undisclosed customers ordered four 787-9s and two 777Fs. Year-to-date, Boeing has accumulated 841 net new orders (971 gross orders), compared to 550 net new orders (664 gross orders) in the first ten months of last year. In 2022, Boeing booked 774 net new orders (935 gross orders), up from 479 net new orders (909 gross orders) in 2021 (before ASC 606 changes). Please note that for comparison reasons, we do not include Boeing's so-called ASC 606 accounting adjustments in the numbers reported in this article and regard net new orders as gross orders minus cancellations.
In October, Airbus had a good month and booked orders for 119 aircraft from six different customers and reported 26 cancellations (one A319neo, five A320neo and 20 A321neo), for a total of 93 net new orders. United Airlines placed a large order for 60 A321neos, while Cathay Pacific, the flag carrier of Hong Kong, booked 24 A321neos and eight A320neos. Also, Air Niugini, the national airline of Papua New Guinea, ordered six A220-100s. Finally, three undisclosed customers booked 10 A350-900s, eight A220-300s and three A321neos. Year-to-date, Airbus has accumulated 1,334 net new orders (1,399 gross orders), compared to 810 net new orders (1,033 gross orders) in the first ten months of 2022. In 2022, Airbus booked 820 net new orders (1,078 gross orders), surpassing both 2021 gross orders and net new orders.  In 2022, Airbus won the orders crown for the fourth consecutive year by a fairly slim margin of just 46 aircraft compared to Boeing. In 2021, Airbus booked a total of 771 gross orders and received 264 cancellations, for a total of 507 net new orders.
At the end of October, Airbus reported a backlog of 8,014 jets, of which 7,296, or 91 percent, were A220 and A320ceo/neo family narrowbodies. Airbus' all-time backlog record was set in August this year when the company reported a backlog of 8,024 jets, surpassing the old record of 7,967 jets set in June this year just after the Paris Air Show. By the end of last month, Boeing's backlog (total unfilled orders before ASC 606 adjustment) was 5,866 aircraft, of which 4,590, or 78 percent, were 737 NG/MAX narrowbody jets. Boeing's all-time backlog high of 5,964 aircraft was set in August 2018, and the company is looking set to surpass this figure when Dubai Airshow orders are included in the next update. While well behind Airbus' backlog, Boeing has increased its order book significantly in recent years and is expected to continue to set new records in 2024 and beyond. The number of Airbus aircraft to be built and delivered represents 9.3 years of shipments at the 2019 production level (the pre-pandemic level), or 12.1 years based on the 2022 total. In comparison, Boeing's backlog would "only" last 7.3 years at the 2018 level (the most recent "normal" year for Boeing), or 12.2 years based on 2022 deliveries. As of October 30, Boeing's book-to-bill ratio this year, calculated as net new orders divided by deliveries, is a very strong 2.08 with Airbus coming in even higher at 2.39. This means that both companies have received more than two new firm orders for every aircraft the company has delivered so far this year. In 2022, Boeing's book-to-bill ratio was a very strong 1.61. Meanwhile, Airbus' book-to-bill ratio was a solid 1.24.
Dubai Airshow 2023
Just before the official opening of the event, the first major orders hit the wire. On Monday, Emirates placed a massive order for 90 777X jets comprised of 35 777-8s and 55 777-9s. At list prices (before discounts), the order is valued at $52 billion. With their newest order, Emirates is expanding its 777X backlog to 205 jets. The airline is also adding five more 787 Dreamliners while converting 30 787-9s to 20 787-8s and 10 787-10s. "Emirates is the biggest operator of Boeing 777 aircraft, and today's order cements that position," said Sheikh Ahmed bin Saeed Al Maktoum, Chairman and Chief Executive, Emirates Airline and Group. "This order is an incredible vote of confidence in Boeing's highly efficient widebody family and the versatility of our 777X and 787 airplanes to meet Emirates' needs for global long-haul travel," said Stan Deal, President and CEO of Boeing Commercial Airplanes. The 777-9 seats 426 passengers in a typical two-class configuration, with a range of 7,295 nm (13,510 km). The 777-8 seats 395 passengers with a range capability of up to 8,745 nm (16,190 km). In Dubai, Boeing has the 787-9 and 777X on display.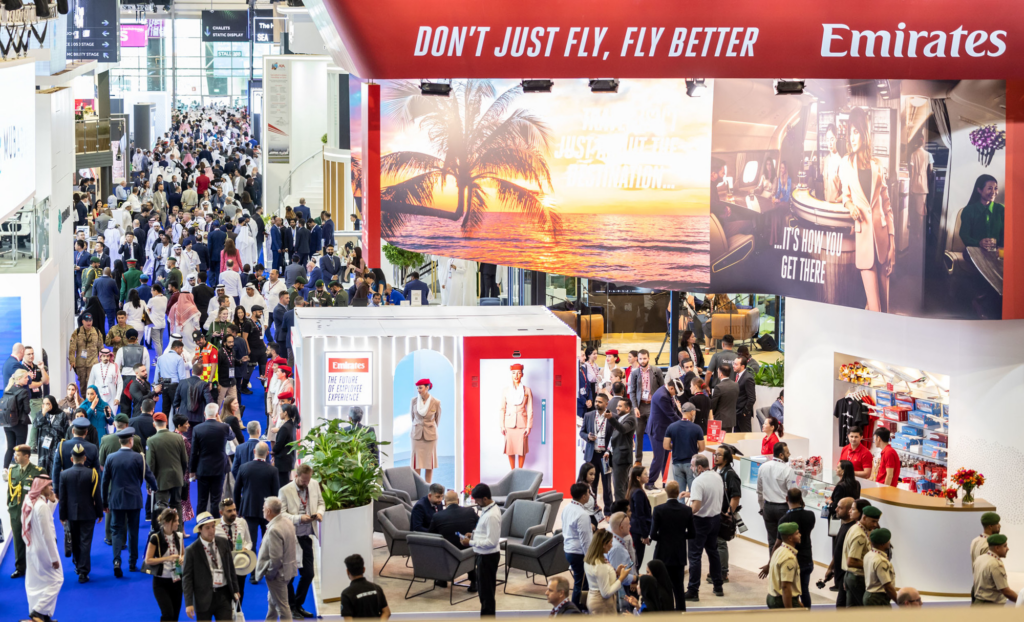 Also on day 1, Emirati low-cost airline, FlyDubai, announced an order for 30 Boeing 787-9 Dreamliners valued at $11 billion. SunExpress, a joint venture between Turkish Airlines and Lufthansa, placed a large order for 45 737 MAX single-aisle jets with options for 45 additional aircraft. The deal comprises 28 737-8 and 17 737-10 models. Finally, Royal Air Maroc and Royal Jordanian announced orders for four and two 787-9 Dreamliners.
Airbus is making a big splash in Dubai and has the following aircraft on display: A321-211 P2F, A321neo, A330-800, A400M Atlas CMk1, A400M Atlas, C295M, and ACJ TwoTwenty. Meanwhile, Airbus today announced that airBaltic, the flag carrier of Latvia, will become the largest A220 customer in Europe after confirming a new order for an additional 30 A220-300s, taking the airline's total firm orderbook to 80 aircraft. The airline was the launch customer for the A220-300 and currently operates a fleet of 44 aircraft of this type and is the largest operator in the world. An A350 order from Emirates appears to be on hold. According to industry sources, last-minute negotiations focused on the terms of an engine deal with Rolls-Royce. Also, Turkish Airlines could make a huge purchase of 355 aircraft from Airbus, including 250 A321neo aircraft, according to the Turkish state-run Anadolu news agency. According to Reuters, an Airbus spokesperson said on Monday that Turkish Airlines and Airbus had reached an agreement in principle for a "significant commercial aircraft order". Turkish Airlines have reportedly discussed the purchase of 75 A350-900s, 15 A350-1000s, five A350 freighters as well as 250 A321neos, in addition to 10 A350-900s for which terms have already been agreed upon (added to Airbus' backlog in September). The order has been on the drawing board for many months and some had expected it to be announced at this year's Paris Air Show.
Also in the market for aircraft is Riyadh Air, a planned second flag carrier of Saudi Arabia. In March, the airline announced an order for up to 72 Boeing 787-9 Dreamliners and has plans to expand much further. On Monday, the airline's CEO stated that his company would announce a very large order for narrowbody aircraft "in a number of weeks" following a review of bids from Airbus and Boeing.
On Tuesday (day 2 of the show), Ethiopia's flag carrier, Ethiopian Airlines announced it has agreed to order 11 787-9 Dreamliners and 20 737-8 MAX jets with an opportunity for 15 and 21 additional jets, respectively. Also on Tuesday, Kazakhstan's SCAT Airlines placed an order for seven 737-8 MAX aircraft. Meanwhile, Airbus received an order from EGYPTAIR for 10 A350-900 aircraft. French turboprop manufacturer, ATR, booked an order for 10 ATR 72-600s for Abelo, a turboprop-focused leasing firm, along with options for an additional 10 aircraft.
On Wednesday(day 3), Ethiopian Airlines signed a memorandum of understanding (MoU) with Airbus for 11 A350-900s to be added to its existing fleet.
2023 Forecast
Forecast International's Platinum Forecast System is a breakthrough in forecasting technology that provides 15-year production forecasts.  The author has used the Platinum Forecast System to retrieve the latest delivery forecast data from the Civil Aircraft Forecast product. For 2023, Forecast International's analysts currently expect Boeing and Airbus to deliver 515 and 706 commercial jets, respectively. Please note that these figures exclude militarized variants of commercial platforms such as Boeing's P-8 Poseidon maritime patrol aircraft and KC-46 Pegasus tanker and Airbus' A330 MRTT tanker.
Boeing released Q3 2023 results on October 25 and lowered its 2023 guidance for 737 MAX deliveries from 400-450 to 375-400 due to the aforementioned production issue concerning the aft pressure bulkhead. Near-term deliveries and production will be impacted as the company performs necessary inspections and rework. Boeing reaffirmed its 787 guidance from November of last year calling for 70-80 deliveries in total. Airbus released its 9M 2023 results on November 8 and reaffirmed the previous guidance for 720 commercial jet deliveries in 2023.
Note: A light green color for production rates means the program is currently transitioning to a higher rate.
*Boeing is currently transitioning from 31 to 38 737 MAXs per month. The official rate is still 31/mo.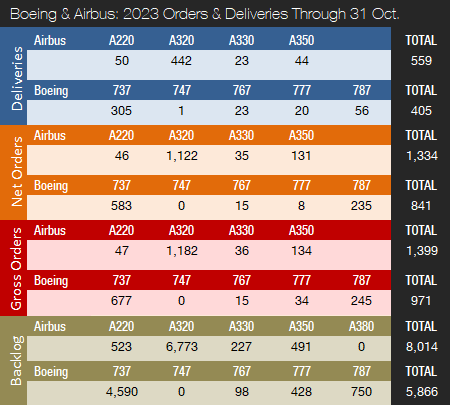 References: